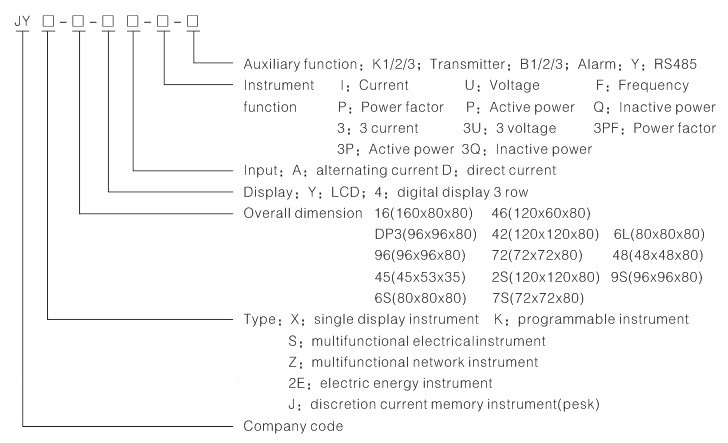 JYK(PZ1006-2) programmable single-phase intelligent meter adopts alternating current sampling techniques, which enables it to measure power in ammeter, voltmeter, single-phase active and reactive power meter, three-phase active and reactive power meter and power factor meter. The rate can be set by the panel buttons, and the meter has a high cost performance. The product is convenient to install, easy to wire, and simple to maintain. It has few projects and can be set input parameters as field programmed. And it can communicate with different PLC and industrial computers in the network.
1、
Power supply: AC/DC: 80V-270V.
2、Rectifier circuit: the average sine wave detector, showing rms.
3、Accuracy: ≤0.5% of the input full scale ± 2 characters.
4、Sampling rate: about 2.5 times per second.
6、Frequency Response: 50 ~ 60.
7、Relay contact capacity: AC220V/3A.
8、Relay contact life-span: 105
2
times.
9、Transmitter output accuracy: ± (0.8% +3 d)
Display:
four LED digital display of 9999.
Maximum input:
voltmeter: 600V, voltage transformer is required when the AC voltage is over 600V; ammeter: 5A, current transformers is required when the AC current is over 5A. DC ammeter: 5A, built-in shunts of 75mv, 60mv and 50mv are required when the DC current is over 5A.
Uses:
suitable for measuring the parameters in ammeter in the industries of electric power grids, automation, substation automation, power distribution automation, intelligent building, and the enterprise's internal system.
To be matched by the client:
RS485 communications, two-way switch output, two-way switch input, and one way analog output.
Time aging:
all the products have been time-aged, so that it can stably work in a long-term to reduce the impact of external environment on the meter, offering users a satisfactory product.
Overall diagram and Connection diagram