Model and meaning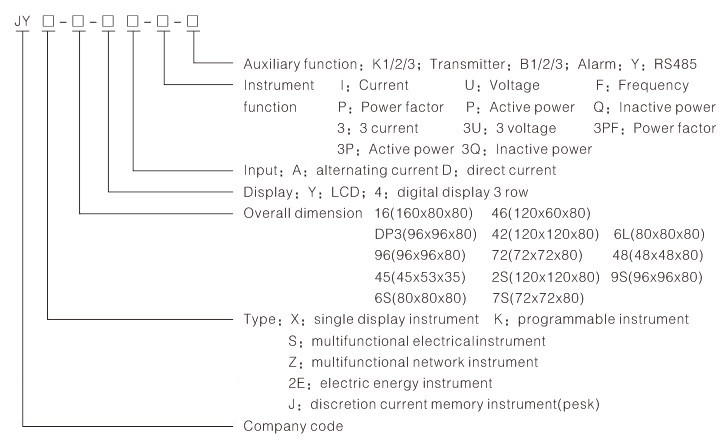 Product overview
JYK(PZ1006-3) single-phase digital meter adopts alternating current sampling techniques, which enables it to measure the power in ammeter, voltmeter, frequency meter in the power grid, with its high accuracy, good stability, good resistance to vibration, and intuitive display. It is convenient to install, easy to wire, and simple to maintain, and it's an upgraded product of various types of the pointer headers.
Technical specification
1.power supply: AC220±10%
2.rectifier circuit: : Sine average detected ,Value display
3.accuracy class : 0.5%1 digits
4.speed : 2.5time/Second
5.MAX display :1999
6.temperature :-25-50℃
7.consumption :1VA
8.MAX input : Voltage meter :Need Voltage transformer when Voltage 600V,AC current :Need current transformer when Current 5A
Measurement range
1.AC voltage measurement range:Directly input :AC 600V ,199.9V ,99.99V ,9.999V.Voltage transformer input : Customized.
2.AC Current measurement range:Directly input : 5A (2.00A ,200.0mA customized)Current transformer input: X:5 CUTOMIZED
3.DC voltage measurement range: Directly input: DC 600V , 9.999V ,99.99V ,9.999V (could be customized)
4. DC current measurement range:SHUNT input : X:75MV10A,15A,20A,50A,100A,150A,200A,500A,1000A,1500A,2000A,2500ADirectly input: Could be customized.
Overall diagram and Connection diagram